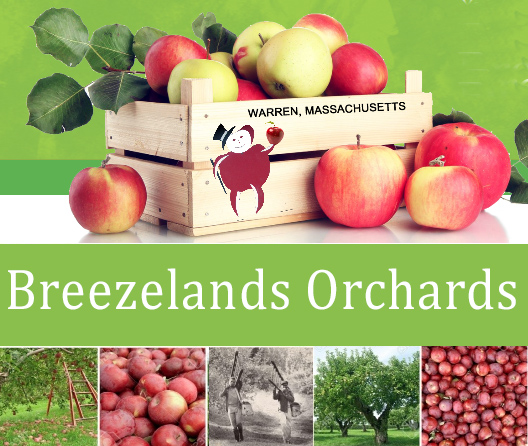 Breezelands Orchards
Welcome to 

Breezelands Orchards - 

Since 1896
The perfect Central Massachusetts, kid-friendly destination for autumn family fun.  With rich New England history baked into every home-made Apple Pie, our apple orchard has been in the Tuttle family for 5 generations.
Breezelands Orchards offers one of the area's last authentic apple orchard experiences. You and your kids will make priceless memories as you explore our 100-acre apple orchard with tractor rides, and picnic areas.  And of course, there is nothing more satisfying than a bushel of  Pick-Your-Own Apples!
Take a tour of the orchard. Our orchard tours are both fun and educational for young and old alike.  This is a great way to learn the history of our orchard and see the whole orchard operation. Fresh produce has never looked so good!
If you get hungry while walking around our beautiful apple orchard, you can stop by our farm stand, where we offer the highest quality apples, Peaches, Blueberries, Raspberries and Nectarines, Jellies, Maple Syrup, Honey and Cheese, as well as our famous Baked Goods.
Centrally Located… on Southbridge Road in Warren, Mass, we are centrally located between Palmer, Ware, Brimfield, West Brookfield, are less than half an hour from Worcester, and about an hour from Boston, Hartford, and Nashua.
Features
Open AUGUST - NOVEMBER 27th OPEN:10 A.M. - 5 P.M. 7 days a week November 27th 8 am - noon
Contact Information
1791, Southbridge Road, Warren, Worcester County, Massachusetts, 01083, United States of America